Varsity Boys' Basketball 2010-11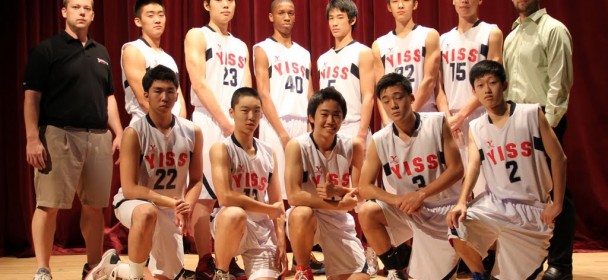 The boys entered the 2010-11 season with high hopes and realistic expectations. The sole senior, Joelmir Dombe, was now a starter and captain, and the core of the team along with Joelmir were juniors: Jon Bai, Raymond Lee, Anthony Kim and Brian Chang. The addition of sophomore Ben Linssen and freshman Sam Kang added some height to the team as well. The season started better than anyone anticipated. The boys rattled off wins against SFS (first time in school history) twice, GSIS twice, and SIS before the break. The only loss the first half of the season was against a tough Osan team.
The 2nd half of the season was more of a struggle, with another loss to Osan, two losses to SAHS and a loss to TCIS. However, the boys entered the tournament in the 3rd spot, the best season finish in school history for D1. The guys shocked everyone on Friday by beating 2nd seed Osan, who came into the tournament having only lost to SAHS all year. For the first time in school history, the boys made it to the finals of the KAIAC tournament. They faced a dominant SAHS team on Saturday. Although they lost the game, the boys put up a good fight and kept the lead to under 20 for most of the game. However, SAHS was just too strong and pulled away to 25 at the end.
Far East would be another great showing for the boys. While they did start slow in the tournament pool play, they pulled together and made it to the final day of bracket play. The match-up against Edgren's height would prove to be too much, and the boys lost a close one after a late attempt to come back. They finished in 4th place for that tournament. Jon Bai ended the season with 494 points (a new single-season school record) and 295 rebounds. It was a good finish to a historic year for Guardian Basketball.
Record: 20-11, 3rd (KAIAC Conference); 2nd (KAIAC Tournament); 4th (Far East Tournament)
All Conference: Jon Bai, Raymond Lee
All Tournament: Jon Bai, Raymond Lee
All Far East: Jon Bai, Raymond Lee