Varsity Boys' Basketball 2012-13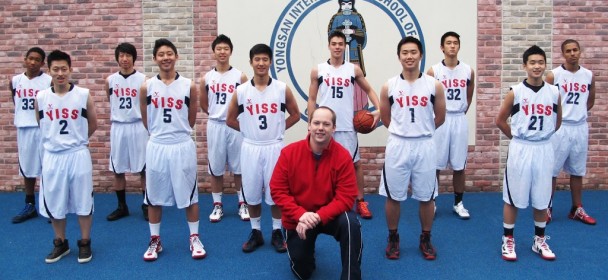 The 2012-13 basketball season was a season full of rough spots. The team was hardly at full strength at any point throughout the season. During one week of play, only one starter was able to start. Because of this, the regular season was a bit of a roller-coaster, with tough losses to SIS (41-44), DAHS (40-41), ICS and Osan. The silver lining was the fact that the bench players had to grow up quickly. During a two week period, first-year varsity seniors Zack Burney and Brian Oh, Junior Jihoon Park and Freshman Xavier Sawyer had to fill the role of starters.
The boys' mantra became "learn and grow," and that they did. As the starters became healthier, the bench became deeper. The proof was in the pudding when the boys pulled off a huge upset against an always tough SAHS teams that usually dominates its opponents. Heading into the tournament as the fifth seed, the boys still had a positive attitude about their chances.
KAIAC would turn out to be another miracle run to the finals. The guys won their first round match-up easily against Osan, who had defeated them early in the season. DAHS was up next as the #1 seed, with only one regular season loss. The boys led most of the game, but the warriors made it close and tied it up with only 5 seconds left on the clock. On the last play of the game, the ball was inbounded to James Bai at mid-court with only 3 second left. James drove to the basket and floated up a shot as the buzzer sounded, and the ball dropped through. It was a rewarding and revealing moment for the guys. Although they lost by just 5 in the finals, the way they were playing at the end of the season was encouraging to say the least.
Far East was a challenge as well, as the boys first game pitted the Guardians against DoDDs Japan champs Edgren. They lost a tough one and had to win out in order to stay in the tournament. The guys proceeded to take care of business against Osan, Okinawa Christian, MC Perry, and get revenge against Edgren (57-50) the 2nd time around. This put them in the top 3 and playing on the final day for the 3rd straight year. St. Paul proved to be too much though, as the guys lost 42-54.
Overall, it was a great finish to the season and the boys look forward to returning many starters next year.
Record: 14-11, 5th (KAIAC Conference); 2nd (KAIAC Tournament); 3rd (Far East Tournament)
All Conference: Chris Yoo
All Tournament: Sam Kang, Ben Linssen, James Bai
All Far East: Chris Yoo