Varsity Girls Soccer 2011-12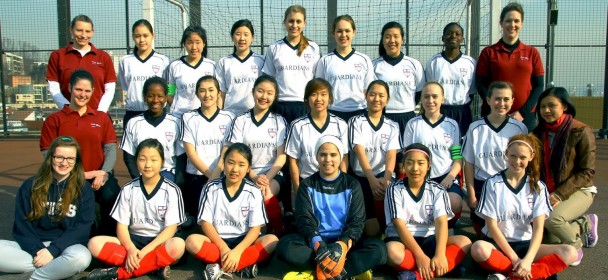 It was another tough season for the girls soccer team.  Although the girl fought to the end in many close matches, those close matches always seemed to tilt in favor of the opposition.  It was a year of the close loss.  Though the final record was disappointing, the girls and the Guardian faithful were proud of how the team fought to the bitter end in every competition.
Far East was a new experience for many of the girls and added much experience to a relatively inexperienced squad.  The girls also came away with two wins against EJ King at the tournament, a major accomplishment at the end of a tough year.  All around, the season ended on a positive and the girls look forward to improving on what they started next year.
Record: 2-12-1, 8th (KAIAC Conference); 9th (KAIAC Tournament); 6th (Far East Tournament)
All Conference:Jeehyun Wang
All Tournament: Sarah Waldrop
All Far East: Emily Birmingham, Kathryn Franck